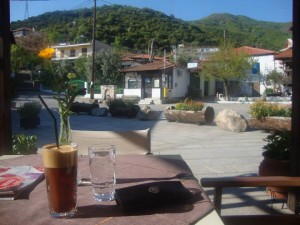 Build on the down hills of mountain Cholomontas, named Sougliani, just 800m away from the sea, the village of Ano Stavros is known for its great climate and the panoramic view that offers for many centuries to its residents and visitors.
It is believed that residents from the ancient villages of Argilos, Vormiskos, Avlona and Stagira first inhabited the village when they searched for protection high on the hills. It is also believed that the name of the village came out with an alteration of the name Stagira. (Stagira – Stagiros – Stagros – Stavros. Another theory justifies the name of the village Stavros cause of the cross point it was located, between of roman Via Egnatia and the path to mountain Athos.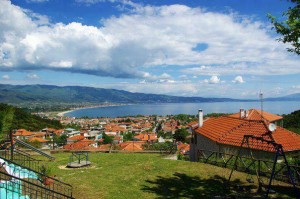 At the year of 1440 the village was seizured by Turkish sultan Maura II. For some reason he respected the village and made it the large village of the area. At 1821 when the Greek revolution war took place the village was totally destroyed by the Turkish army. Only 4 houses, from the total number of 300, survived this ravage. The residents participated with great enthusiasm to the liberating battles witch finally led to 1912's liberation.
The native residents of the village along with the refugees came from Asia Minor became a unified community for some years. The lack of homogeneity and many problems that occurred, led to segregation. It was then that the native's village took the name Ano Stavros. Till then it was referred as Stavros.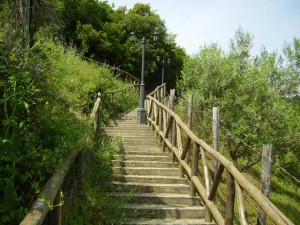 Today, Ano Stavros is part of Municipal District of the Municipality of Volvi. Despite the ravage the village suffers at the past, the village managed to maintain parts of the tradition once carried.
Ano Stavros's visitors have the chance to:
Be astonished by the panoramic view of Strymonikos gulf spread out in front of his eyes all the way to mountain Paggaio in Kavala.
Honor the liberation war heroes visiting the war memorial.
Wonder on the forest that surrounds Ano Stavros witch offers to the village priceless dew during the hot summer.
Pay respect to the old church of Saint Dimitrios, where there are saved old icons and wall paintings since 1842, and to watch the old imposing bell-tower build there since 1870. Right next of the old church stands the new one, devoted to the holly cross.
Admire traditional stone houses marks of the famous Macedonian architecture.
Enjoy the shady traditional square that is built on the center of the village, the place of many cultural events during the summer.
Taste the traditional cuisine at the local taverns witch is famous for the quality of the food the offer.
Choose the form of accommodation and enjoy the peace and quite of the village.